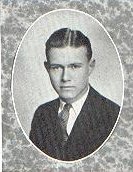 Gerald Collins Van Metre
Born: Oct. 19, 1903 in Tipton, IA
Died: July 13, 1988 in King of Prussia, PA
Buried: Valley Forge Memorial Gardens
Father: Ezra Van Metre
Mother: Emma Marion Collins
Picture of Gerald and Armantha
---
Married: Nov. 23, 1927 in Sanford, FL
Wife: Leila Armantha Roberts
Born: March 28, 1909 in Peckville, PA
Died: July 4, 1995 in King of Prussia, PA
Buried: Valley Forge Memorial Gardens
Children
*Lawrence Robert b. Nov. 24, 1928

Richard b.
The following is a narrative on Gerald Van Metre by Lawrence his oldest son:
" He mentioned several times he was a pretty good tennis player. He won some kind of doubles tournament while in college, but usually added that his partner won most the points, (if that's what you score in tennis)."
"He attended Coe Jr. College in Cedar Rapids, Iowa and then went to University of Washington in Seattle. I don't know his major or even if he earned a degree." Picture shown above is from 1923 Coe College yearbook where he was freshman class president. Picture with Phi Alpha Pi fraternity brothers Coe College 1923.
"I know he was a sales clerk in a shoe store in Daytona Beach, Florida in 1927. I know because my Mon and Dad met there. They were married in 1927 in Sanford, Florida by a Presbyterian minister in his church. He was unable to make a living selling shoes, so they moved to Peckville, PA, where my mother was from, where he managed a Laundry & Dry Cleaning store owned by my mothers father. That didn't work out either, because this was the worst years of the depression, and most people had no money for new shores or to have their cloths cleaned."
"Next he went back to selling shoes, but this time in a store in Manhattan, where he felt the foot traffic (no pun intended) and better economy would enable him to support his family, It didn't!"
"Luckily, his brother Donald had a job in Los Angles with Curtis Circulation Company. He recruited and managed boys to sell Curtis Magazines where ever they could find a sale. There was another territory open in LA which he told Dad about. When I was 1 year old my parents and I drove from NYC to LA to take this job in a Model A Ford."
"It paid $7 per week, but he used his own car and the company did not reimburse for car expenses. To try to get by financially, nine of us lived in a large 3 story house in Hollywood (where I was told Charlie Chaplin once lived). The nine were my grandparents, Ezra & Emma, Uncle Don's family; Aunt Jess, Nancy & Tommy, and Mom, Dad, me and Dick two years later."
"Dad had a successful career at Curtis, having been transferred to Philadelphia in 1942, and eventually becoming sales manager for eastern US. However, Curtis made some bad business decisions in the 50's and early 60's which caused them to lay off many employees. Rather than accept an extreme pay cut and a very extensive travel territory, my father quit Curtis in 1962 at age 59."
"Mon & Dad moved to Santa Cruz, California, where they had bought the magazine & Book Wholesale agency. They operated the agency until 1965 when sold it to a friend and retired to Florida."