Tim James "T. J." Van Meter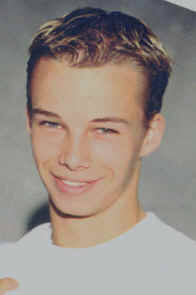 Tim James "T.J." Van Meter, age 19 of Delaware died Friday, March 15, 2002 from injuries sustained in an automobile accident on Plumb Rd., South of Sunbury.

He was born on April 19, 1982 in Marion to Judy L. (Long) Van Meter of Delaware and Tim A. Van Meter of Delaware. He completed the fire service program at Delaware J.V.S. North, graduating with the Delaware Hayes High School Class of 2000. T.J. worked as a courier for Kondik Courier Service, he was also a security guard for Polaris Fashion Mall, and a model for Z Models.

He attended the Eastside Mission Church, enjoyed rock climbing, snow boarding, paintball, and collecting fire memorabilia. T.J. also liked to work on cars, and was especially proud of his Acura Legend. A artist he also enjoyed music, known as T.J. the D. J. Another hobby was making car sound systems, he won a base competition with a sound system he made. He was cheerful, easy going, and always willing to lend a helping hand.

In addition to his parents, he is also survived by Sister: Jenny Van Meter of Delaware, Maternal Grand-parents: Willard & Marjorie Long of Delaware, Paternal Grandmother: Enola Van Meter of Delaware, Great-Grandmother: Mary Long of Apple Grove W.V., Uncles; John (Bea) Van Meter of Huron, Jim Van Meter of Waldo, Will "Uncle Googlee" (Mary Kirk) Long of Marysville, Joy Long of Delaware, Jamie Long of Delaware, and Aunt: Sherry Conley Long of Delaware, Cousins: Matt Van Meter, Mark Van Meter, Julie (Steve) Cline, Brandon Long, Drake Long, Second Cousins: Twins: Ryan and Victoria Cline, Best Friends: Aaron Coy, Aimee Travis, Uncle Frank Ripka, numerous other family and friends.

Proceeded in death by Grandfather: James F. Van Meter, and special friend Kendell Wayne Hack Jr.

Friends may call Monday 4-8 p.m. at DeVore-Snyder Funeral Home, 75 W. William St. (SR 36) Delaware. Funeral services will be held Tuesday 1:00 p.m. at Highpoint Nazarene Church, 795 Pollock Rd., Delaware, Rev. Donnie Akers officiating. Burial will follow in Marlborough Cemetery.

Memorial contributions can be made to the T. J. Van Meter Memorial Fund, c/o National City Bank, 40 N. Sandusky St., Delaware, Ohio 43015 or through the funeral home.