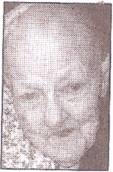 Thelma Van Meter
Thelma Rodgers, 94, pass away on Ian. 23, 2008. Preceded in death by husbands,
Hank Rodgers and Loren Cloyce Van Meter; children, LeRoy Van Meter , Dick Van Meter, Rebecca Van Meter and Eva Van Meter; grandchild, Steven Van Meter; and brothers , and sisters, Lloyd and Harry Jones, Marie Burrer and Lois Williams. Thelma graduated from Central High School. Survived by her children, Dale (Donna) Van Meter, Bertha Bedwell, Robert (Norma) Van Meter, Betty Marie (Ivan) Schoal, Bill (Pam Black) Van Meter, Dorothy Maerean, Linda (Terry) Ray, Kelly (Debbie) Van Meter, Jack Van Meter and Charlie (Sue) Van Meter; numerous grandchildren, great-grandchildren and great -great grandchildren; sister, Betty Jane Berckefeldt; brother-in-law, Ray Van Meter; and numerous nieces and nephews. Funeral service, 2 p.m. Thursday, Imperial Funeral Home Chapel. Interment, Imperial Memorial Gar- dens. Memorial contributions may be made Ito the Alzheimer's Association.


From: The Pueblo Chieftain - Pueblo, Colorado. January 27, 2008.
Contributed by: Zelma Setser.