Roxana Van Meter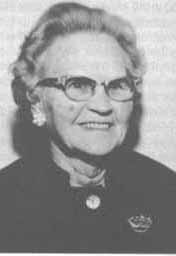 Van Meter, Roxana 10/15/1890 11/17/1975

Born: Rhome, Texas SS# 454-64-5690-A Father: W.W. Morris Mother: Annie Louise Cates Religion: Meth. Moved to McAdoo in 1925 from Rhome,Texas.
Source: Adams Funeral Home.

Roxana Van Meter, well known McAdoo resident for half a century, succumbed Monday morning in Crosbyton Clinic Hospital following a prolonged illness. She was 85.

Memorial rites for Mrs. Van Meter were conducted at 2:30 p.m. Tuesday in the McAdoo Methodist Church, where she had been a member since 1926. The Rev. Johnnie Williams, pastor of First United Methodist Church in Crosbyton, and the Rev. Luther Baker, pastor of the McAdoo Church, officiated.

Interment was made in Crosbyton Cemetery, beside the grave of her husband. King Funeral Home directed arrangements.

The former Roxana Morris was born October 15, 1890 in Rhome, Texas. She became the bride of Earl C. Van Meter on September 29, 1912 in Fort Worth. Mr. Van Meter preceded his wife in death June 7, 1947.

The Van Meters moved to McAdoo in 1925 from Rhome. Their residence was three miles south and 1 1/2 miles east of McAdoo.

Surviving are one son, Earl Van Meter of McAdoo; two daughters, Mrs. Marjorie Hardy of McAdoo and Mrs. Frances Taylor of Crosbyton; two brothers, Charles B. Morris of Crosbyton and Grady Morris of Decatur; one sisters, Mrs. E.C. McCurdy of Rhome; seven grandchildren, and 16 great grandchildren.
Crosbyton Review, April 2, 1981