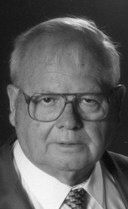 Gene Van Meter
Funeral services for Gene Van Meter, 78, of Kilgore, will be held at 2 p.m. Wednesday, Dec. 28,2005, at Grace Baptist Church with Revs. Don Beebe and Tommy Stone officiating. Interment will follow at Rock Springs Cemetery in Gladewater. Mr. Van Meter died Sunday, Dec. 25, 2005 at his residence.

Born June 12,1927,in Memphis, he served in the U.S. Army during WWII, and worked as the road and bridge foreman for Gregg County, was a lifelong resident of Kilgore, a member of Grace Baptist Church, and the American Legion.

He is preceded in death by his parents, Frank and Bertha Reynolds Van Meter; and brother Charlie Van Meter.

He is survived by his wife, Iva D. Van Meter; son, Larry and Twyla Van Meter, Longview; daughter, Gina Van Meter, Kilgore; seven grandchildren; three great-grandchildren; one sister, Linda Van Meter, Copperas Cove; two brothers, Frank Van Meter, Joe T. and Lelia Van Meter, all of Kilgore; numerous nieces and nephews.

Nephews will serve as pallbearers.

The family will receive friends at the funeral home Tuesday, Dec. 27, 2005, between 5 and 7 p.m.

Memorials may be made to Greater Hospice of Texas Inc. 1905 W Loop 281 Space 81 Longview, TX 75604.

From: Kilgore News Herald - Kilgore, Texas. Dec. 28, 2005.