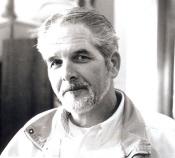 Dwight Maynard Van Meter
Dwight Maynard "Van" Van Meter, 58, of New St., Bridgeport, WV passed away Tuesday evening, February 20, 2007 at United Hospital Center in Clarksburg. He was born February 12, 1949 in West Columbia, WV, a son of the late Harry Richard and Charlotte Virginia Duncan Van Meter.

Van is survived by his wife of more than 30 years, Linda Faye Simmons Van Meter, whom he married July 16, 1976; three daughters, Lori Lambert and her husband Ray of Grafton, OH, Shelly Van Meter of Hampshire, England and Nicole Criss and her husband Rick of Anmoore, WV; and five grandchildren, Michael, CJ, Kayle, RJ and Nikita.

Eight siblings including Richard Van Meter of Arizona, Blain Van Meter and his wife Sandy of Sullivan, OH, Marilyn Fultineer and her husband Jim of Wellington, OH, Keith Van Meter of Elyria, OH, Karen Hicks and her husband Fred of Lodi, OH, Patty Boesel of Lodi, OH, Elaine Rue and her husband Keith of Warner Robins, GA and Dave Van Meter of Lodi, OH, as well as several nieces and nephews complete his family.

In addition to his parents, he was preceded in death by two sisters, Darlene Van Meter and Lucille Brown, and one brother, Alfred Van Meter.

Van was a Certified Machinist having worked with Hank Browning of Manassas, VA. He was also employed as a truck driver with S.W. Rogers Trucking of Gainesville, VA.

He was a veteran of the Vietnam Conflict, having served first with the United States Army, and then re-enlisting with the United States Marine Corps. For his service, he was awarded the Good Conduct Medal and the Republic of Vietnam Cross of Gallentry with Palm and Frame.

His two favorite things to do were riding motorcycles and fishing. He also enjoyed camping and "trading".

In lieu of flowers, contributions in Van's memory may be made to the Bridgeport Emergency Medical Services in care of the Bridgeport Fire Department, 131 West Main St., Bridgeport, WV 26330.

Visitation and services for Van will be held at the Bauer-Laubenthal Funeral Home, 38475 Chestnut Ridge Rd., Elyria, OH. Visitation will be held on Sunday from 3-6 pm, where services will be held on Monday at 1pm. Please call 440-322-4626 for more information.

Local arrangements have been entrusted to the care of Burnside Funeral Home, 607 S. Virginia Ave., Bridgeport, WV.