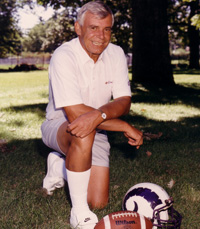 Douglas Copley Van Metre

Douglas Copley Van Metre, 82, of Cedar Rapids, died comfortably at home on Monday, Jan. 18, 2010, following a ten month illness. A memorial service will be held at the Cedar Memorial Chapel of Memories on Friday at 3:30 p.m. A reception will immediately follow the service.

Memorials may be made to the Van Metre Family Charitable Foundation, c/o Mount Vernon Bank and Trust Company, 206 First Street SW, Mount Vernon, IA 52314, to Hospice, or to a charity of the donor's choice.

Mr. Van Metre's career as a prominent businessman and civic leader started in sales, where he was rapidly promoted to sales manager in Chicago with Universal Atlas Cement, a division of US Steel Corporation. Mr. Van Metre then went on to become President of both Rapids, Inc. (Cedar Rapids) and Bauman & Company (Mount Vernon). In addition, Mr. Van Metre served on the boards of the Mount Vernon Bank and Trust Company (Chairman), Mid America Publishing Company (Des Moines), Peoples Bank and Trust, and the Cedar Rapids Country Club. His civic and community activities included serving as Trustee and assistant football coach of Cornell College, a member of the EX Club, and a member of the legislative committee of the Cedar Rapids Chamber of Commerce.

Born on Dec. 21, 1927, to Douglas Ure and Mary Copley Van Metre of Mount Vernon, Mr. Van Metre attended Shattuck Military Academy and was a member of their Hall of Fame (football and hockey), and graduated from Mount Vernon High School. "Moose" went on to attend Cornell College, and graduate from The Colorado College, where he was an All-American football player and C.C. Hall of Fame inductee. After graduation, Mr. Van Metre joined the United States Marine Corp, serving in Korea as a lieutenant and retired as a Captain.

Mr. Van Metre is survived by his wife of 53 years, Celia Lynch; three sons, Douglas (Molly) of Minneapolis, Craig (Donna) of Chicago, and Kent (Susan) of Cedar Rapids; six grandchildren, Benjamin, Nathan, Mary, Harriet, Abigail, and Holland; a brother, David (Carol) of Omaha; a cousin, Edward Van Metre of Flagstaff; sister-in-law, Nancy Beatty (Ed) of Cedar Rapids; a brother-in-law, C.J. Lynch (Heidi) of Boulder, Colo.; and several nephews and nieces.

Mr. Van Metre was surrounded his entire life by family, a wide array of friends, co-workers, coaches, players, customers, teammates, Marines, and his "Damon Runyan buddies" — he loved to be with people. Doug was renowned for his ability to give just about anyone a nickname that often stuck with them throughout their life.
From: The Gazette, Cedar Rapids, IA - January 19, 2010.