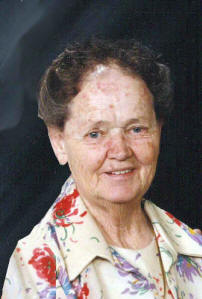 Adalee Van Meter
Adalee "Faye" Van Meter, 75, longtime Fort Morgan resident, died Tuesday evening at her home.

Mrs. Van Meter was born Aug. 1, 1930, in Olney Springs to Elmer and Irene (McGill) Watts. She married Merle Van Meter Dec. 15, 1949, in Raton, N.M. They moved to Fort Morgan in 1967.

She was a member of the Church of the Nazarene. She enjoyed raising calves on the farm and also enjoyed attending her grandchildren's sporting events. Her greatest joy was being a mother and grandmother.

Mrs. Van Meter is survived by her husband, Merle of Fort Morgan; three daughters, LuAnn Whalen of Elko, Nev., Merlene Patterson of Longmont and Lorie Weber of Soldotna, Alaska; three sons, Ron Van Meter of Wells, Nev., Melvin Van Meter of Weldona and Lonnie Van Meter of Fort Morgan; two sisters, JoAnn Houchens of Fort Morgan and Gail Watts of Henderson, Nev.; 17 grandchildren and six great-grandchildren.

She was preceded in death by her parents; two brothers, Floyd Watts and Gene Watts, and an infant child.

Visitation will be Friday from 2 to 4 p.m. at the Heer & Jolliffe Mortuary Chapel in Fort Morgan.

Funeral services will be Saturday at 2 p.m., also at the chapel. Interment will follow in Memory Gardens in Fort Morgan.

Memorials may be made to Hospice & Pallative Care of Northern Colorado, 1106 E. Sixth Ave., Fort Morgan.

The Heer & Jolliffe Mortuary in Fort Morgan is in charge of arrangements.
From: The Fort Morgan Times - Fort Morgan, Colorado. February 3, 2006.