Van Meter Distillery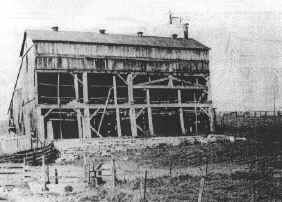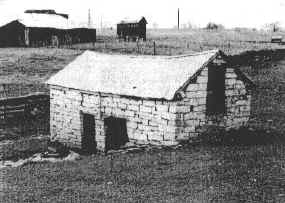 On List Of National Register Of Historic Places.
Location: On Van Meter Road, Clark County, Kentucky.
Description: Distillery made of large hewn rafters and vertical members and stone springhouse.
History: Ben Van Meter built the distillery right after the Civil War; he went broke around 1870 with shorthorn business. Herefords brought in around 1840. Moore-Van Meter Whiskey made here. Van Meters from Hardy County, Virginia. "BFV" , 1877 Beers Atlas.
Significance: Built soon after the Civil War by Ben Van Meter, this log and frame distillery produce Moore-Van Meter whiskey. IN the 1870's, Van Meter lost his fortune when the demand for short horn cattle subsided and the economic prosperity of this entire area declined. This structure was eventually converted to a barn.
This site represents the pattern most common in 19th century Kentucky of decentralized small scale local industries. There was at this time no major concentration of industrial or even commercial activity in major towns. Instead, people with the wealth and means ran small industries on their own land, and the products they produced were generally marketed on a very local level. Large scale industry and marketing is really a post railroad development in Kentucky. Therefore, this site is a rare survivor from an earlier economic and social order.
Copy of the National Register Of Historic Places Registration Form. Prepared by:
George Van Meter, dated Fall 1976.