Nathan Van Metre House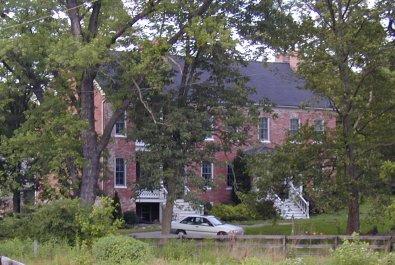 On List Of National Register Of Historic Places.
Location: Dry Run Road (County Route 13), three miles northwest of Martinsburg. The house is visible from the road. Topo Map
Description: The Nathan Van Metre House is a good example of transitional architecture. In this case, classic late Greek Revival Style to Victorian. It exhibits several strong features of both styles. The proportions of the house are Greek Revival, as are the three pairs of "H" chimneys, the six over six double hung sash windows, the square chamfered slender porch posts and pilasters, the corbelled brick cornice, the four light flat-headed transoms, and the main entrance with a brick jack arch, seven light transom over paneled sidelights with small chamfered pilasters flanking a heavily paneled door and paneled surround. Victorian features include the arched window openings, the scroll work balustrades on the two-story recessed porch, four panel entrance doors, and the seven common bond brick pattern. The exterior exhibits stronger characteristics of Greek Revival Style while the interior exhibits stronger Victorian features.
The house is rectangular, eight bays wide, a full two stories tall with a steep gable roof. There are enclosed, end, "H" chimneys and an enclosed central "H" chimney. There is a high coursed rubble stone foundation. The main portion of the house is five bays wide and two-stories tall. The other three bays consist of a two bay, two-story, porch with windowed pantries. The house is painted white.
The rear facade is only seven bays wide. A small, one-story, one bay, enclosed roof porch is the main rear entrance. The other rear porch has been removed as was the original, three bay, one story porch. No other major architectural elements have been altered.
The floor plan of the main bay portion is double pile, a central hall with two rooms on each side. Those on the east side form a double parlor. On the west side is a large dining room and a smaller rear room. The dining room connects with the three bay kitchen.
The main entrance opens into a hallway. Ceilings are at ten feet. The entrance hall has an open string stairway of four flights up to the attic. Two turned spindles are on each step. The single starting newel is a battered octagon with the handrail mitered into a molded circle of itself as the cap. On the landings between the floors the handrail curves in one piece.
Both rooms of the double parlor have identical mantels. These have a heavy shelf over bed moldings. The frieze has chamfered edges as do the pilasters. The lower edge of the frieze panel is on a plain backboard and is peaked toward the center becoming a wide three section arch. Decorative appliqués are in both spandrel sections. Two other mantels on the first floor have a decorative ogee frieze. On the second floor, two mantels are plain and have a simple ogee.
Trim throughout the house has molded facings with an architrave backband molding. Window jambs are battered. Doors are four panel with small locks and tortoiseshell knobs.
Finishes consist of tongue and groove wood floors, painted or wallpapered walls, and painted ceilings. Much of the woodwork and doors is grain painted. Others are painted. The kitchen and baths have vinyl flooring.
Close to the rear of the house, to the northwest, sits a small brick smokehouse with the same architectural features as the house. It is one-story, the brick construction is five row bond, and has a corbelled brick cornice. The roof is a steep gable and there are decorative brick vents arranged in a diamond pattern in the gable ends. Roofing material is standing seam and corrugated metal. Built in 1872. It is contributing.
There is a large banked barn to the northwest of the house. Built in 1872. It sits on a high stone foundation and is sided with vertical weatherboard. There are louvered windows. It is contributing.
The garage is a one bay, one story, gable building with vertical board siding, metal roof, and concrete foundation. It is ca. 1920 and is considered contributing.
There is a storage building associated with the milking barn. It is a small, one story, end gable building with a metal roof and concrete block walls. It is ca. 1935 and is considered non-contributing.
The milking barn is also a concrete block building. Ca. 1935. It is non-contributing.
The chicken house is a one-story, shed roof building with clapboard siding and a concrete foundation. It is ca. 1920 and a contributing building.
There are two silos. One is ceramic tile, ca. 1915, and is contributing. The other is ca. 1920 and is contributing.
In all, there are nine resources within the nominated area. Two are non-contributing, and seven are contributing.
History: The 160 acre farm was purchased by Nathan Van Metre from the heirs of Anthony Rosenberger in 1855. The land was part of a larger tract of land containing 360 acres which had been the plantation of Anthony Rosenberger. When Nathan bought the farm in 1855, it contained a house valued at $500.00. When Nathan built the present brick home in 1872, he demolished the Rosenberg home.
Nathan Van Metre was born November 13, 1820 in Berkeley County. He was the son of Thomas and Isabella Rush Van Metre. Thomas Van Metre was a very prosperous local farmer. When he died in 1874 he owned seven farms which he divided amongst his wife and children. To son, Nathan, he left the "Walters Farm" on Dry Run which contained 188 acres and the "Billmyer" land which contained 81 acres. Both these parcels were to be shared with Nathan's brother, Newton. The Van Metres' are an old family of early settlers in the region. John and Isaac, two brothers from New York and New Jersey, were originally patented 40,000 acres in 1930 by the government in Williamsburg. They subsequently sold it in 1731 and Joist Hite brought in settlers in 1732, including John Van Metre.
Nathan Van Metre married twice. First to Harriet C. Carper on October 9, 1851 and then to Harriet Williams. Harriet Carper died in 1863. She and Nathan had six children, only two daughters lived to adulthood. Nathan and his second wife had one son, Moses G., who was born in 1866 and who died five months later.
Nathan Van Metre died January 31, 1905. He left the brick home and 166 acres to his daughter, Lillie F. Ramsburg, who was living there at the time. Lillie died in 1922 and left the home place to her heirs.
Nathan Van Metre's brother served in the Confederate Army. He and his family were supporters of the Confederate's cause.
BIBLIOGRAPHY
Comstock, Jim "West Virginia Heritage Encyclopedia" Richard, West Virginia, 1976.
Ruth, Frances Downey "Nathan Van Metre House" American Historic Architecture for the Berkeley County Historic Landmarks Commission Form 1/19/80
Silver, F.; "Historic Inventory of Structures in Berkeley County, WV"; 1973-1974.
Wood, Don C. "History of Nathan Van Metre"; Unpublished manuscript.
"The Berkeley Journal" Berkeley Historical Society, Issue 10, 1981.
Berkeley County Courthouse
Records
Deeds, etc.
Copy of the National Register Of Historic Places Registration Form. Prepared by:
Michael Gioulis, Historic Preservation Consultant
Don C. Wood, Genealogist & Historian
Dated: June 1, 1994