Jacob Van Meter House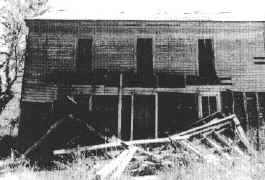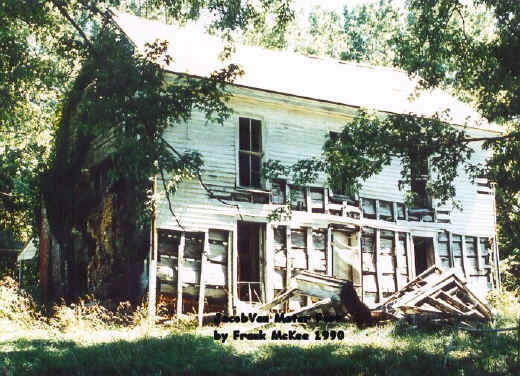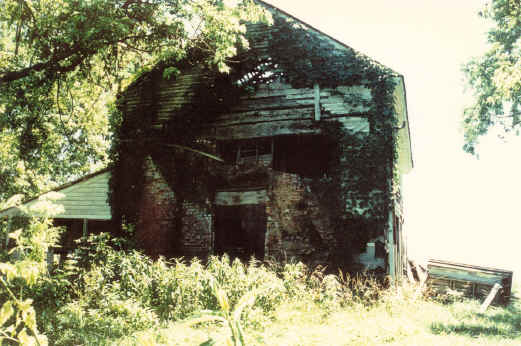 On List Of National Register Of Historic Places.
Location: On Kentucky 222 six-tenths of a mile west of Glendale. Topo Map
Description: The Jacob Van Meter House was originally a two story log building constructed in a double pen plan in 1797. The house's main feature was the massive brick chimney constructed on the north facade. This chimney was built with a porthole window and small room for use as a protected opening for defense against Indian attacks. At the rear (east facade) of the house is a one-story frame addition added ca. 1900. The logs of the original section are "V" notched and were covered with weathered board in the late 19th century. Windows are two-over-two sash and the house has a gable roof of corrugated metal. On the main (west) facade of the house an added ca. 1900 porch has collapsed. The interior retains original four panel doors and vertical board doors. The original mantels have been removed. There are no significant outbuildings associated with the house.
Statement of Significance: The Jacob Van Meter House is associated with noted county settler Jacob Van Meter and was built in 1797. Van Meter served as an officer in the Revolutionary War and was on a flotilla of boats which came down the Ohio River in 1779 and settled in Kentucky. Van Meter chose this site for his home which he built in 1797. The house was built in a three room Quaker design with a large brick chimney. Within the chimney a small porthole was built to provide a firing station against Indians. Van Meter operated a grist mill and was a prominent farmer amassing a large farm before his death in 1838. The house has been unoccupied for many years and is in poor condition but its basic form and detailing are evident. The house's design and unique detailing make it an important site for study of early log home construction. There are no significant outbuildings associated with the site.
From Dottie McKee: sent colored picture, description and this information " I understand the Jenkins family donated it to the town of Glendale but when they took apart and were burning the logs that couldn't be used the good logs caught fire and burned as well. Such a loss!"
Prior to building his house Jacob Van Meter, in 1780, built a fort about 1/2 mile south of Elizabethtown on Highway 62. Historical Marker (photo's by Dottie McKee)
Copy of the National Register Of Historic Places Registration Form. Prepared by: ?