William S. Van Meter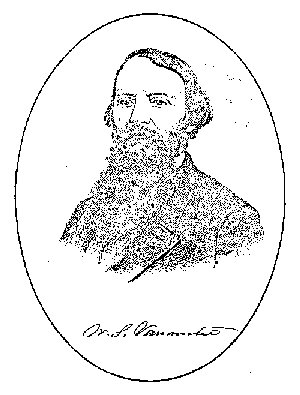 WILLIAM S. VAN METER (deceased) was born April 29, 1817, in Kanawha County, W. Va., and was the oldest child born to Jacob and Martha U. (Shrewsbury) Van Meter. He received an excellent English education at Bowling Green and Oxford College, Ohio, and when he arrived at maturity entered his fatherís store at Bowling Green, as a partner. At the age of twenty five he with two others went to Now Orleans and engaged in a forwarding and commission business. One year later he returned to Bowling Green, and engaged in farming near the steamboat landing, which he followed with success for eight years. He married Mary E. Shrewsbury, December 21. 1844. She was a daughter of William and Rhoda (Shrewsbury) Shrewsbury, who were born in Bath and Bedford Counties, Va., respectively. William Shrewsbury was an extensive salt manufacturer, and in 1842 disposed of his real estate, immigrated with all his slaves to Warren County, Ky., and about five years later settled in Ohio County, near South Carrollton, where he purchased a large farm and lived until his death in September, 1882, at the age of eighty-eight years, his wife having preceded him about twenty years. At the beginning of the war he had about thirty slaves, all of which he lost. When a young man be had been engaged in merchandising. He was a son of Samuel Shrewsbury, and his wife was the daughter of William Shrewsbury, who married Rhoda Pate, a native of Virginia, and was clerk of the court for many years. He was a man who possessed considerable wealth before the war. He died while in Kentucky on a visit. William S. Van Meter after he quit farming re-entered the commission business, also engaged in steam boating and was the instigator of the Green and Barren River Mail Line. He and Capt. Roberson were the original movers in organizing the Steamboat Navigation Company. In 1808 he and his brother, Charles J. purchased the Grayson Springs property, and improved and have made it one of the most celebrated watering places and pleasant resorts in the South. Mr. Van Meter lived at the springs until his death in January, 1884. This Grayson Springs property was valued and recently sold for $100,000. Mrs. Van Meter, after her husbandís death, returned to her farm near the landing north of Bowling Green, where she has, built a fine residence. She also owns property in Bowling Green, and also holds a large interest in the navigation company. She is an active and devoted member of the Episcopal Church. Mr. Van Meter was a member of the I. O. O. F. He and wife were liberal givers to charity and for benevolent objects; not having any children of their own they adopted and reared several orphan children. Before the war be was an active and influential Whig; after the war he became a Democrat.
Copied from: "Kentucky: A History of the State" by Battle-Perrin-Kniffin, 1866.