Jacob Rhoads Van Meter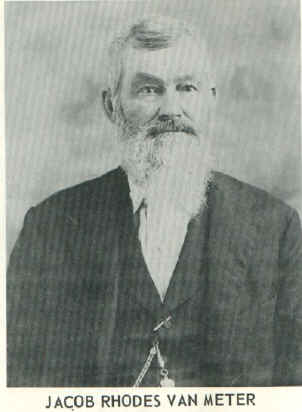 Jacob Rhoads Van Meter is the president of the Van Meter Milling Company at Van Meter, Iowa, and several other business interests claim his time and attention and profit by his sound judgment as well as unfaltering diligence and activity. He is now in the eighty-second year of his age and few men who have advanced thus far on life's journey remain in active life, but Mr. Van Meter is one whose record proves the fact that old age is not necessarily a synonym of weakness nor inactivity nor need it suggest as a matter of course idleness or want of occupation. There is an old age which grows stronger and brighter as the years go by, both intellectually and spiritually, and gives out of its rich stores of wisdom and experience. Such has been the erase with Mr. Van Meter and it is with pleasure that we present to our readers the record of his life.
A native of Bartholomew county, Indiana, he was born on the 27th of September, 1824, his parents being Joseph H. and Elizabeth (Grundy) Van Meter, both of whom were natives of Kentucky. The father was born in Hardin, September 30, 1792, and was a son of Jacob Van Meter, a native of Virginia, while his grandfather also bore the name of Jacob and was a native of the Old Dominion. The family came from Scotland, the original ancestors in America settling in this country at a very early day in its development. Joseph H. Van Meter was a boatman and pilot on the Elizabeth, the third steamboat ever run on the Mississippi river. Later he turned his attention to farming, removing to Indiana, about 1821 and there carrying on general agricultural pursuits until in 1858, when he came to Iowa. He died in this township at the very venerable age of ninety-five years and thirty days. The mother of our subject died when her son Jacob was but eight years of age and left four children, namely: Jacob; Susan G., the deceased wife of Edgar H. Haycraft; Julius J. and Grotus, who have also passed away.
Mr. Van Meter of this review was reared upon his father's farm in Indiana and was a pupil in one of the old-time log schoolhouses such as were common in that day. He afterward took up the study of civil engineering in Hardin county, Kentucky, and at a later date returned to Indiana. Settling at Kokomo, he there carried on merchandising and in 1850 he came to Iowa, making the journey with a two-horse wagon. Here he located land warrants and thus prepared for the establishment of a home on the frontier. Subsequently he returned to Indiana and in 1851 he again came to this state, where he has since lived. He first made his home near De Soto, where he had six hundred and forty acres and with characteristic energy he began to cultivate and develop this. He carried on farming on that property until 1856, when he turned his attention to the banking business in Adel, the partners being J. R. and H. G. Van Meter. That business was conducted from 1857 until 1860, when in the vicinity of De Soto, Mr. Van Meter built a flouring mill, which he operated until 1864. In that year he organized a company for service at the front, for the Civil war was then in progress.
Mr. Van Meter, with patriotic spirit, offered his services to the government, enlisting as a member of Company C, Forty-sixth Iowa Infantry, and was mustered in with the rank of captain at Davenport. He went to Memphis, Tennessee, in June, 1864, and was engaged in guarding railroads there under Colonel D. B. Henderson. He was under no fire in any regular pitched battle but a number of his men were killed by bushwhackers. He continued to discharge the military duties assigned him until after the close of the war, when he was mustered out at Davenport in the fall of 1864.
Mr. Van Meter returned to his home much impaired in health and it required some months to recover but as soon as possible he again became an active factor in business life. He built a mill at Van Meter, which he operated until 1884, when it was washed away in a freshet. It was a four-story structure but the high waters completely destroyed it, causing considerable loss. At that time Mr. Van Meter went to Adel, where he also built a mill and later he built another at the town of Van Meter. In January, 1867, he came to Van Meter, where he has since resided with the exception of two years spent in Adel. He is now engaged in the milling business as president of the Van Meter Milling Company and as such is associated with one of the important industrial concerns of the county. He is also the owner of much valuable land, having six hundred and thirty acres in this county and one hundred and sixty acres in Dakota. He has at different times owned other property but has disposed of this save his residence in Van Meter.
On the 27th of March, 1855, Mr. Van Meter was united in marriage to Miss Mary Peabody, who was born in Highland county, Ohio, October 14, 1834, and was a daughter of Stephen and Susan (Elliott) Peabody, the former born in Maine on the 5th of November, 1795, and the latter in Ohio, April 20, 1801. The father died in Van Meter at the age of eighty-one years, while the mother passed away in 1894. They were the parents of nine children of whom Mrs. Van Meter and one son, Stephen, of Hamilton, Missouri, are still living. Unto Mr. and Mrs. Van Meter have been born seven children, of whom four still survive: Ellen E., the wife of S. B. Kenworthy, of Des Moines; Joseph, who died at the age of fourteen years; Mary Ann, the wife of Ira Hall of Nebraska; John, who died in infancy; Jacob R., who was killed by a horse falling upon him in 1884; Carrie, the wife of W. C. Dack, of Des Moines; and Henry C., who is living upon the home farm.
Mr. and Mrs. Van Meter celebrated their golden wedding on the 27th of March, 1905. They have traveled life's journey together for a half century, sharing with each other its joys and sorrows, its adversity and prosperity. Two more years have now passed and it is to be hoped that they will be spared for a long time to come as fellow travelers on life's journey. They are members of the Christian church and Mr. Van Meter is a member of the Masonic fraternity. His has been an active, useful and honorable life, and as one of the most venerable and most respected citizens of Dallas county he well deserves mention in this volume.
Email from Nancy Walter with additional information on Jacob Rhodes.